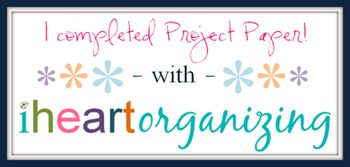 Here's another link to my new favorite blog…IHeart Organizing!  January's project was the Paper Challenge.  I didn't do all of the different projects along with Jen, but here is what I accomplished!
One of my best finds in Virginia Beach was this old wooden file cabinet. We need all of the creative space we can find now that we are in New York City.  This piece doubles as our end table next to the couch.  Ben has done some tweaking so the drawers slide better, and my most recent project was redoing the files.
I now have a box of paper to take to the shredder, and I recycled a trash bag full of non-important documents.  I removed all of last year's bank statements, paystubs, etc. to the file box in the top closet so they are out of the way. 
I made my labels on the computer this time (inspired by IHeart Organizing!).  I put the main category tabs on the left, and the subcategories are in manila folders on the right.  It's soooo much easier to find things now!  I also have more room in my drawer.

It's a boring picture, but it's very exciting in person!
I also re-organized the bottom drawer of the filing cabinet.  It contains all of my music.  I divided the sheet music into categories and folders.  The arrangement books are now sorted by genre (classical, sacred, etc.).  I even found several duplicate books that Ben & I both had from college.  They are now listed for sale at Amazon (and two have sold!).
The last step of my paper project was my business box.  I didn't even have tabs or labels on most of the files, so finding the documents I needed was always a hassle.  Not anymore…that is if Elaine would stay out of it!
I already blogged here about everything else that I labeled and reorganized this month.  I am already starting to wonder what else I can work on.  Oh well, I guess I will just have to scrapbook instead!
February's project is definitely to redo my recipe storage – it's a horrible mess!